As a young boy I became interested in radio when I saw my neighbour experimenting with an illegal FM band transmitter.
At that time I also became an engineering box for electro mechanical experiments and also I got a first electrical engineering set from Philips for many small electronically technical experiments.
After a while I wanted to try and build the radio from a Philips radio box on a circuit board, that gave me my first soldering experience.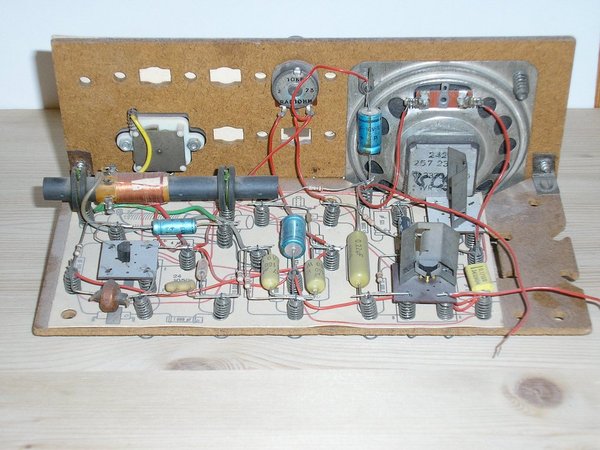 Mechanical engineering experiments
I was a member of aviation scouts building scaled aircraft.
For that I needed some remote control unit but buying it was way too expensive.
There was a design for building a remote control yourself, DIGIT4, which I decided to build.
When I was checking and aligning the receiver I suddenly heard voices which were drawing my attention. That was my first experience with something like ham radio being 27 MHz. I started building my own 27 MHz transceiver which worked out well with about 1.5 W output.
I was quite active for a while on 27 MHz and met several other locals busy for their exam for real ham radio amateur.
I decided to go for that also because 27 MHz was illegal at that time.
Getting my licence was easy and I got my callsign PA0EHG on 16-12-1974
At first I wanted to get QRV on 144 MHz, I got hold of a transceiver but that was not working very well so after some time I started building my own transceiver. Based on a design from an other local amateur I started building an SSB transceiver.
A few months later I started building a 70 cm transverter.
In the seventies I became interested in the amateur bands above 432 MHz
My first microwave band was 1296 MHz
Using a 26 element loopyagi I was QRV with about 30 Watt output from a single 2C39 tube.
At this time I build my first Beacon PI7EHG which was situated in Eindhoven almost on top of the tower close to the Evoluon.
The beacon was at 1296.875 MHz with about 1,5 Watt into a omni antenna
A few years later I build a bigger PA using 2 time 2C39 tube giving me about 150 Watt
I became interested in EME attending a lecture from Jan PA0SSB but at that time it was not possible for me to start with EME.
In the years after I became active with tropo on most microwave bands
I became interested in microwave bands and in 1980 I started participation in the PA0WRC/p contest station.
For the contests the microwave band were essential and I build a lot of new equipment at that time.
I became QRV on 6 and 9 cm and on 10 GHz all narrow band.
On 9 cm using a TWT with about 9 W output, on 6 cm using a multiplier with about 150 mW output and on 10 GHz also a multiplier about 30 mW
In a period of tree years time we managed to win the multi operator contest section of VERON,
1980 third place, 1981second place and 1982 first place.
In 1980 I had build my first narrowband 3 cm station existing of two step recovery multipliers one for TX with about 30 mW output and the other for RX feeding a balanced waveguide mixer, so no preamplifier yet.
At that time I build 10 GHz beacon (callsign PA0MS) which was QRV from the Technical University in Eindhoven beaming North West.
After some time we became a telephone call from PA0EZ who had heard the beacon the evening before.
I suggested that if he heard the beacon again. we should try and make a QSO from my home QTH.
That evening he called me at home and we succeeded in a two way QSO over about 95 km.
This was my first narrow band QSO from my home QTH.
I was using a 5 meter long waveguide with a 30 cm dish on it which I placed outside my window standing against the antenna for 70 and 23 cm.
That evening I also made a 10 GHz QSO with PA0JME from Rotterdam.
In 1982 I started working for QRL and moved to Enschede in the eastern part of the Netherlands.
I was living on a apartment at the 9th stock giving me an excellent view to the horizon
In front of the window at the 9th floor I had a 10 GHz beacon QRV beaming west with a 30 cm dish.
After some time I was allowed to put up some antenna's on top of the building giving me a most superb take off for the microwave bands
I was QRV on all UHF/SHF bands with home made equipment.
My 10 GHz station on top of the building using a 70 cm dish was used whenever I wanted to make QSO's on 10 GHz, if needed I switched off the beacon but most of the time this was not necessary.
Antenna system on top of the flat in Enschede

About 50 mtr over ground

2 times 21 ele Tonna for 70 cm

!.2 mtr dish for 23, 13 and 9 cm

70 cm dish for 6 and 3 cm
I started building equipment for 24 GHz and using a separate TX and RX I was able to do some experiments in setting up my TX at my kitchen window and then go portable with my RX tot the Holterberg about 40 km away and receive the transmit signal.
That went well and soon I was able to make my first two way QSO on 24 GHz working home to home with PA0JGF about 15 km
I participated in the Danish Microwave activity week mainly on 10 GHz and 24 GHz.
This was a very stimulating event for the very high microwave bands, so I started building 47 and 76 GHz equipment
The years after I was also QRV with 47 GHz and 76 GHz
Take a look at the equipment I build at that time
I made QSO's on 47 GHz with DB6NT/OZ over about 40 km distance
Also we succeeded on 76 GHz and my transmitter was even good copy without antenna using open waveguide on my transmitter.
76 GHz between OZ/PA0EHG and OZ/DB6NT

PA0EHG right, assisted by PA0JGF left

during QSO with OZ/DB6NT on 76 GHz

assisted by Jan PA0JGF

On the left the experimental transmitter with open waveguide is visible
this produced a strong signal over 40 km distance.
In 1987 I changed QRL and moved to Boskoop in the west part of the Netherlands
In march 1992 I made the first ever QSO in the Netherlands on 47 GHz
I was rewarded for this with the nomination as amateur of the year 1991
Considerans spoken for my election as Amateur of the year 1991 (in Dutch)
I build a up new antenna system for 70, 23, 13, 6, 3 bands. A few years later I also added 24 GHz.
At that time I was very busy trying to make the first ever QSO on 24 GHz with G3LQR which we made in 1995
the first ever between PA and G on 24 GHz
In 1995 I moved QTH to a much better location with lots of space and excellent take off into most directions.
My new QTH was in the middle of the hart of Holland with most trees not taller than 1 meter high.
This is my Home location.
You can see the house and the barn behind the house.


Left of the barn you can see the EME antenna and on the right you can see the antenna for 70 cm and 6 meters.


The 2.5 meter dish for 23 cm is very difficult to see, just right of the EME dish.
The place I live is called Hazerswoude, a small village in the centre part of the three major cities Amsterdam, The Hague, Utrecht.
My home gives me a good opportonity for my microwave hobby with excellent take off into most directions. The most trees around my home are not higher than one meter (Hi).
In this picture you get a better view on the EME dish and
the 2.5 meter dish for 23 cm
Here you can see my take off into your direction.
The photo's are taken just below the 2.5 mtr dish
at 9 meters over ground level
Choose the direction you are in
360 °
30 °
50 °
80 °
100 °
140 °
180 °
230 °
250 °
270 °
300 °
350 °
These are pictures of the most important part of my station.
Antenna system
---
Now I also had space for a big antenna, I build up an mast with a 2.5 Mtr dish for 23 cm tropo and a second mast with a 1.2 mtr dish for 13 and 9 and 6 cm. Also a 70 cm dish for 10 GHz and a 50 cm dish for 24 GHz.
After a few years I managed to get a 3 metre Andrew dish wanting to use that for EME
My microwave experience combined with the EME interest resulted in my first EME activity on 3 cm
starting with my first EME QSO with Tay W6HD on 15 September 2001
After the first 24 GHz worldwide EME contacts I became interested in 24 GHz EME but did not have enough power to get things going.
After a few years I decided to give it a try with my 10 Watt TWT which proved to be successful.
3 mtr dish

IN3HER Simple Auto tracking